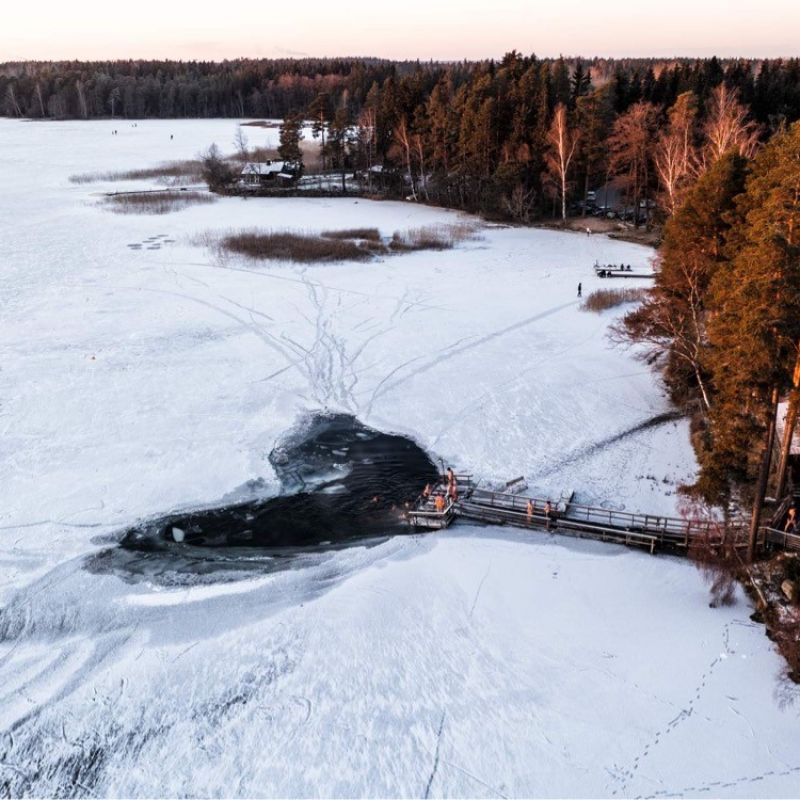 Villa Järvelä
It's been said that when it comes to ice swimming and saunas, Järvelä is the place to be and for a good reason - a stone throw away from Turku on a scenic lakeside spot in Littoinen, you'll find four one of a kind saunas, a couple of hot tubs - and even a hybrid tub that transforms into a cold plunge during summer!
For the past few decades, Järvelä has been a warm and welcoming hub for devoted sauna-goers. A true sense of atmosphere and community is why Järvelä holds a special place in many hearts. With its beautiful lakefront peer, hot tubs and saunas, it's an easy choice for all like-minded ice bathers. These days one could call Järvelä an outdoor spa with an ambience like no other.
Whether you're an early bird that wants to relax before starting the day, someone who wants a midday reboot, or maybe just want to wind down in the evening with friends, Järvelä is the go-to place for all people with the passion for ice swimming.
When warmer weather rolls around, Järvelä is a slice of true Finnish summer - a cozy cabin by the lake with tons of activities to choose from. In addition to Järvelä's saunas and hot and cold tubs, electric fat bikes, row boats and SUP boards are available for rent. You're also welcome to enjoy a cup of coffee at Järvelä's summer café.
One thing's for sure: Järvelä won't leave you feeling frosty!

jarvela.fi